About Us
A Microsoft Registered Partner, ALI Network supports and configures IT systems for small to medium businesses using Microsoft technologies.
As a Microsoft Registered Partner, ALI Network has:
qualifiications and experience to build systems based on Microsoft product offering
all staff who are Microsoft certifiedaccess to a range of offering from Microsoft including planning, pre sales, post sales support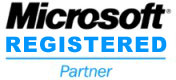 Solution
For the Business and Home Office
Welcome to the site! Take a few minutes to read through the information here. We're certain you'll agree that you've found the right place for all of your Information Technology (IT) needs. Our mission is to help you get results. We're sure that you will be very satisfied with the outstanding quality of our work. Our professional, skilled team provides a quality product at a reasonable price, while treating clients with respect. We are passionate about our work, and excited about the opportunity to help our clients take their businesses to the next level.
What we offer
We can help you with all your Information Technology Needs. Services including to:
Professional Web Design for Internet, & Intranet Sites
E-Commerce Web Sites
IT Support and Outsourcing
Training on how to use your Computers and Applications (Programs)
Application Development
Database Development
Network Solutions
Firewalls and Security
Servers: Email, Web, File, Database, and Print Servers
Where we deliver

ALI Network
Add Your Own Flair

Templates are also designed to be flexible. You can add more pages, delete the pages you do not need, or even rename existing pages.
By using your own photos in place of our sample images, you make the template unique to your business.
More Text Here

Ut lacreet dolore magna aliquam sic semper fi tyrannis erat volutpat. Wisi enim ad minim veniam. Dolore eu sata sfeugiat. Ipsum lorem vei dolor in esse. Ultaceet dolore magna si napi.Ut lacreet dolore magna aliquam sic semper fi tyrannis erat volutpat.